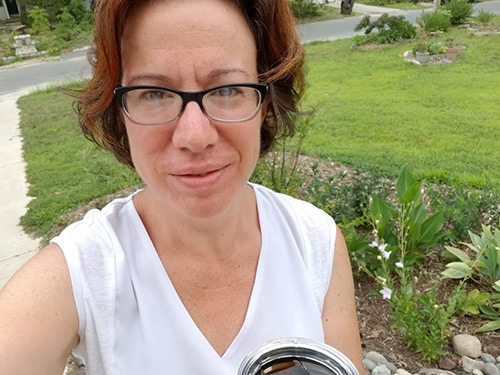 I'm a Jersey Shore local – born and raised in Brick, NJ. I moved to Beachwood with my incredible husband, who's story and attributes is fodder for another blog *wink*, and my little partners in everything I do, my favorite little boy and favorite little girl in the whole wide world. My Mama has joined us for the long haul and with her she brings a rambunctious yellow lab who has created some garden challenges over the past few years.
Together we've taken on the exciting challenge of creating a fertile environment on our sandy patch of the earth. We will grow what we can, improve the soil and compost the heck out of everything that will break down in the heap. Don't stand still for too long, I might try to throw you in the pile.
Besides being a Mom, Wife and, of course, Gardener… I am also an Ocean County, NJ Website Designer and Search Engine Optimization (SEO) specialist. My business is OnYourMarkDesigns.com. Most of my clients are based in NJ, but I create and optimize websites nationwide. We are a full service web design, search engine optimization and internet marketing firm. Check out the site to view some of our work and contact us if you need help with your online presence.
I'm using this blog to record my gardening dates and plans. I'll take note of my attempts, my failures and my success and share with you lots of pictures, recipes and my experiences along the way.
I'm not a complicated, or highly skilled writer at all, but I've always loved to keep a journal. What you see is what you get and I don't expect to become a viral internet sensation. That said, some suggestions and encouragement from those who have done what I am attempting to do is entirely welcome and appreciated!
Thanks for visiting our Jersey Shore Garden!!