In an unprecedented development, I've attended 3 different conferences in one week here in New Jersey. The 3rd Annual Jersey Friendly Yards Conference was last Saturday. This full day event took place at Ocean County College in Toms River, NJ and extended from 9:30am until about 4pm. The conference is organized by the Ocean County Soil Conservation District and the Barnegat Bay Partnership. The conference sold out this year, so the organizers are happily considering moving to a larger venue and expanding the presentation to appeal to a larger NJ audience outside of the Ocean and Monmouth County area.
Pineland's Nursery was there with plenty of product, selling native plants to the conference attendees. They had a great selection and I left with 2 cardinal flowers that I planted in the yard as soon as I got home. The website for Pineland's says they are generally a wholesale supplier, though they do have a couple of open house events during the year where they sell to the general public.
Then on Saturday, October 26, 2019 I went with friends to the Native Plant Society of New Jersey Annual Conference. This was a full day of lectures, lunch, a seed swap and a native plant sale. I volunteered to help represent the Jersey Friendly Yards effort at the event.
This conference sold out this year as well, which is so thrilling! That means native plants and working in our own yards to restore soils and support local wildlife is becoming more of a priority for the public. Hope! Encouragement! Keep it up!
I enjoyed the full day of speakers and picked up a purple flowering raspberry and wild geranium at the native plant sale. I also brought seeds for the seed swap (mountain mint, horse mint and blazing star liatris) and collected a few new seeds to try to propagate this winter.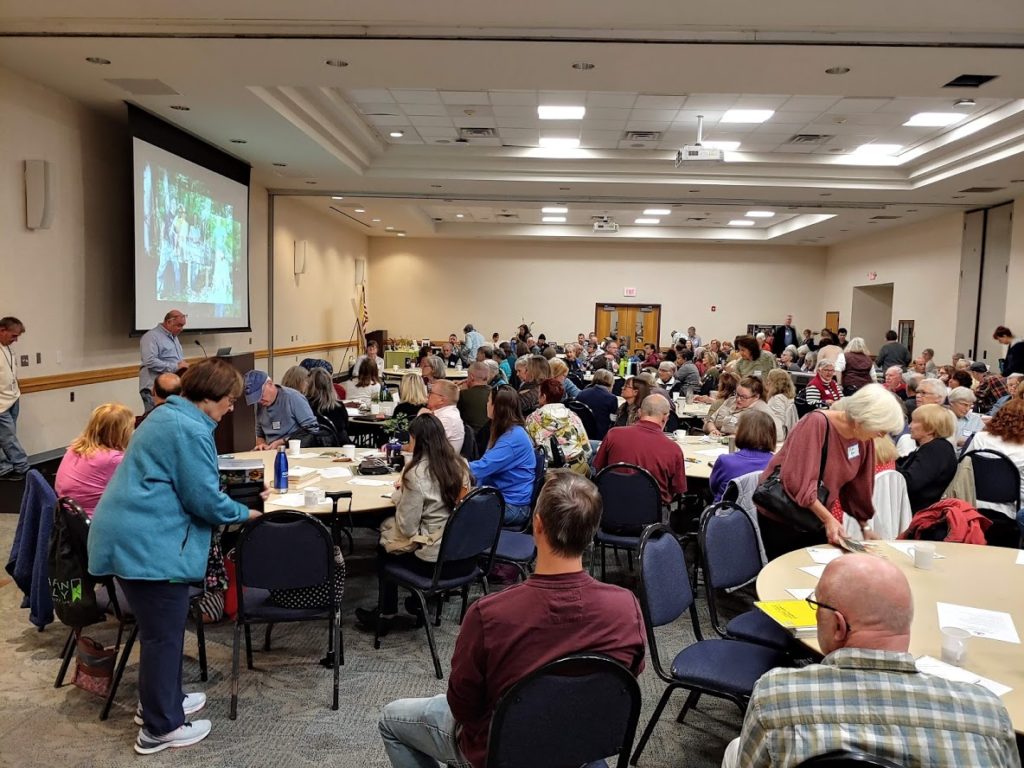 Back in the garden this week and winter prep is happening largely without my involvement! The paw paw leaves are turning yellow and starting to fall. I can see the mantis nests peeking through as branches begin to be more exposed and the once dense shrubs drop their foliage. I haven't had to mow the lawn in a couple of weeks and I won't rush it, though I do plan to mulch/bag the leaves with the mower before I add them to the compost pile this year. I want to see how quickly it will speed up the compost process.
I have a LOT of wood chips left to move since I had a tree service bring me a load… oh, at least a month ago. Between here and the park, I'll go through all of them before a heavy frost.
I made a fatal mistake with my BioCharlie! I left it out in the rain after I made my last batch and the thing has rusted shut. Ugh. I replaced it and am looking forward to trying again. The oaks have dropped a zillion acorns this year and I plan to try to make a batch of acorn biochar this week. I hope it's the perfect stock material because I have a LOT of them and I have to get them off the yard because the dog is tip toeing around back there… ouch ouch ouch. They seem to hurt her feet. Will the acorns explode in the kiln? I hope not.