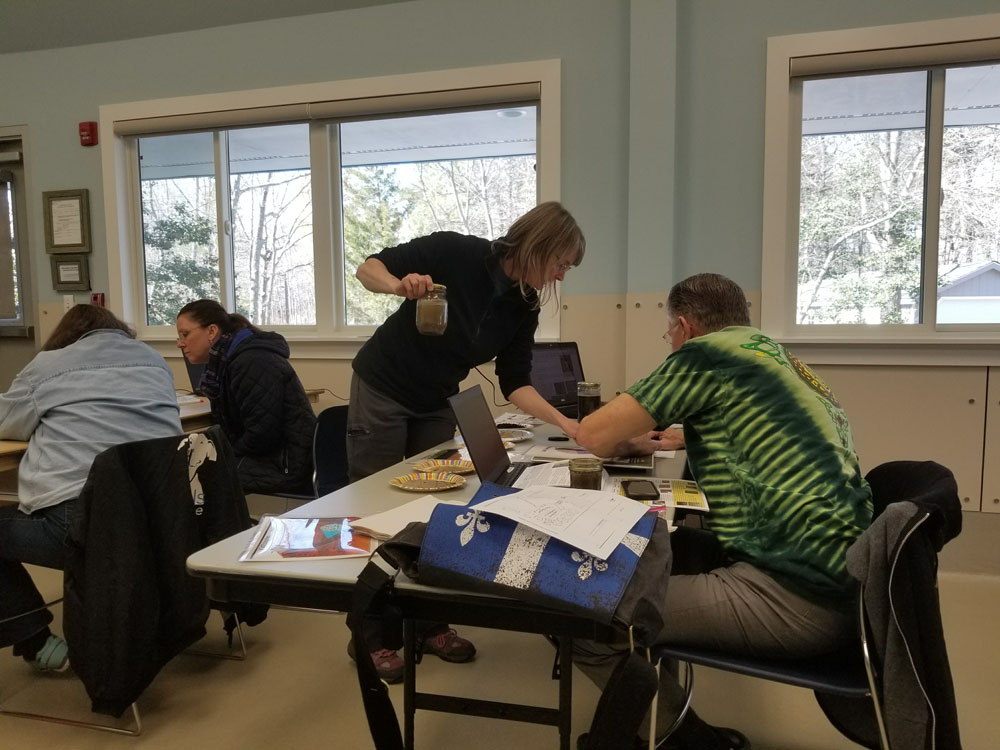 I had a wonderful experience last month participating in a Jersey Friendly Yards workshop with http://www.jerseyyards.org/ just in time to get things started for the growing season. To be included in the workshop, you had to fill out an application to participate and 10 local gardeners were chosen to attend.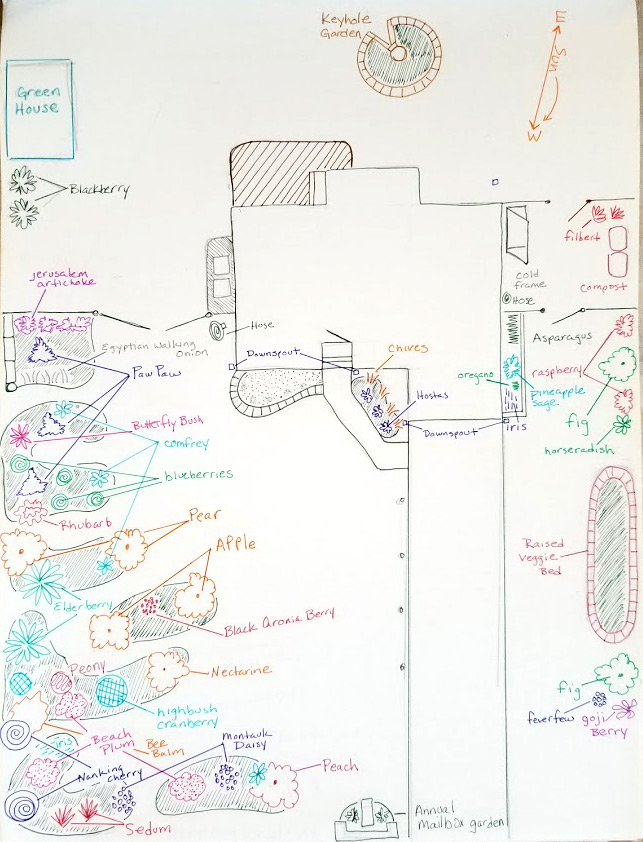 We have been granted a stipend to fund the purchase of some plant material to create a Jersey friendly garden on our property as well as attend three classroom workshops covering information about the Barnegate Bay watershed, a detailed overview about soil (structure, health, amendments and more) and our own garden plans. The experience was fantastic and the workshops ended too soon for me. Becky Laboy from
http://www.soildistrict.org/
was the instructor and she, along with a few of the other gardeners, came to mynjgarden to do a consultation with me about my property.
We decided the awarded plants would create a new rain garden next to the driveway at the beginning of the path to the front door. This will catch a tremendous amount of storm water runoff that comes from 2 downspouts. My mission is to review the available plant list and choose appropriate material for that area. I get to go plant shopping!

During the consultation, I gave my new garden friends a tour of the yard and showed them the fruit trees, berry bushes, perennial vegetables, bulbs and sprouting greens that are trying to defy the colder temperatures and peek out from under the covers of a freezing early spring. What FUN! Just as wonderful as showing them around THIS place, was being able to visit 2 other gardeners yards and find out how they navigate their landscapes and dance with their plants! In doing so, I saw a bunch of plants I have never seen before in real life, and also decided to do more in my own yard to invite birds to hang around and enjoy themselves. Oh, and one lovely new garden friend shared some raspberry plants that she didn't want anymore! I promised to give them a good home and promptly added a few to my front yard beds.
When a compost enclosure meets a rain barrel, magic might happen.
I've had 2 composting systems working for me for the past year. I have a tumbler but I don't love it. I keep adding food scraps and leaves and shredded paper and I suppose something is happening in there… it doesn't stink, but it doesn't seem to be breaking down significantly either. ALL my food scraps were going into this thing for at least the last 6 months and I turn it around a few times every time I add them… I feel like it should be further along by now. I don't think I've got enough mass in there. I also had a big wire bin I made and supported with 4′ stakes. Sufficient, but not pretty. I decided to start covering that big bin to try to control the moisture a bit and the tarp would puddle with rainfall and shift around in the wind. I had to figure something else out.
Thanks to my new network of local gardeners, I got wind of a rain barrel workshop that's coming up. I've been rolling a barrel around for a couple of years, trying to decide what to do with it. I knew connecting it to a downspout on the house wasn't a great idea. The roof is far too big and the gutters gush with hundreds of gallons of water – the barrel would be overwhelmed almost immediately. I need a smaller roof. I don't have a shed and the greenhouse has a steal framework with a plastic covering… difficult to attach a gutter to something I would rather not shade or poke holes into.
I still had plenty of extra 2×4 waste wood from my brother in law, so I decided to create a double duty project! I'll build a compost enclosure with a roof to keep out extra moisture. I'll attach a gutter and daisy chain 2 rain barrels to it. Since I had the wood and tools I needed already, the only purchases are the chicken wire, the 8'x4′ plywood roof and the gutter and hardware for it. Brother in law says he has some extra roof shingles from his building job too, so I won't need to buy those!
Husband says, "Why bother with a rain barrel, you can just water the gardens with the water from the town. It's not that expensive." He's right – my gardens don't need tons of water because of all the mulch and the water bill won't break us. Using a rain barrel isn't about saving money to water the gardens. It's about conservation and using what nature provides for us. I also like that the water is untreated and not chlorinated, which makes it better for the soil life. Like the song title says, "Rain is a Good Thing."

Here's my original drawing. The finished system will look a little different, but it's close.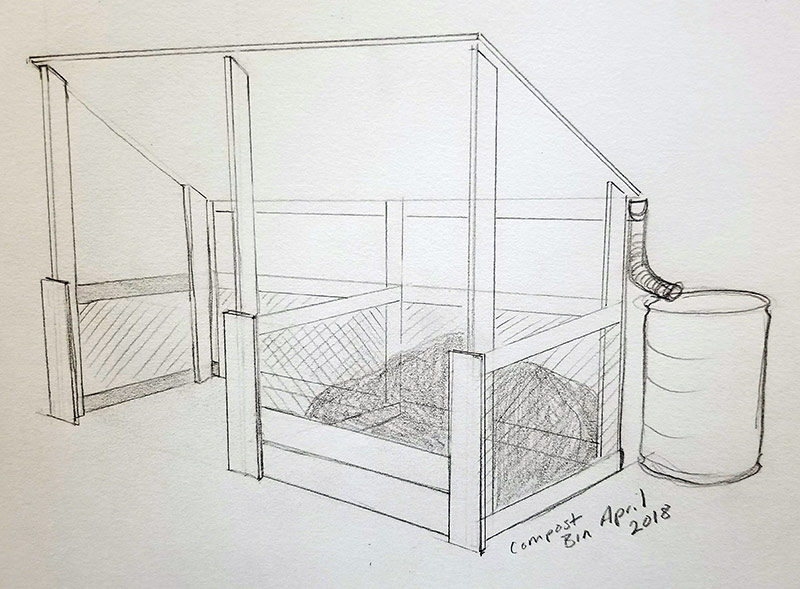 I put together the first part of project this weekend and filled it with material today. I'll need to create a more permanent gate, but for now, I've put wire fencing across the front to keep the compost contained.
I love the way it's turning out and it's inspired my next project to be a serious kiwi arbor for the back yard. I will use every piece of the waste wood for awesome garden structures and signage!
Here are pictures of the compost/rain barrel system so far.