The St. Patrick's day parades were happening in Seaside and Belmar this weekend and yet I still haven't started a single seed indoors. Why?!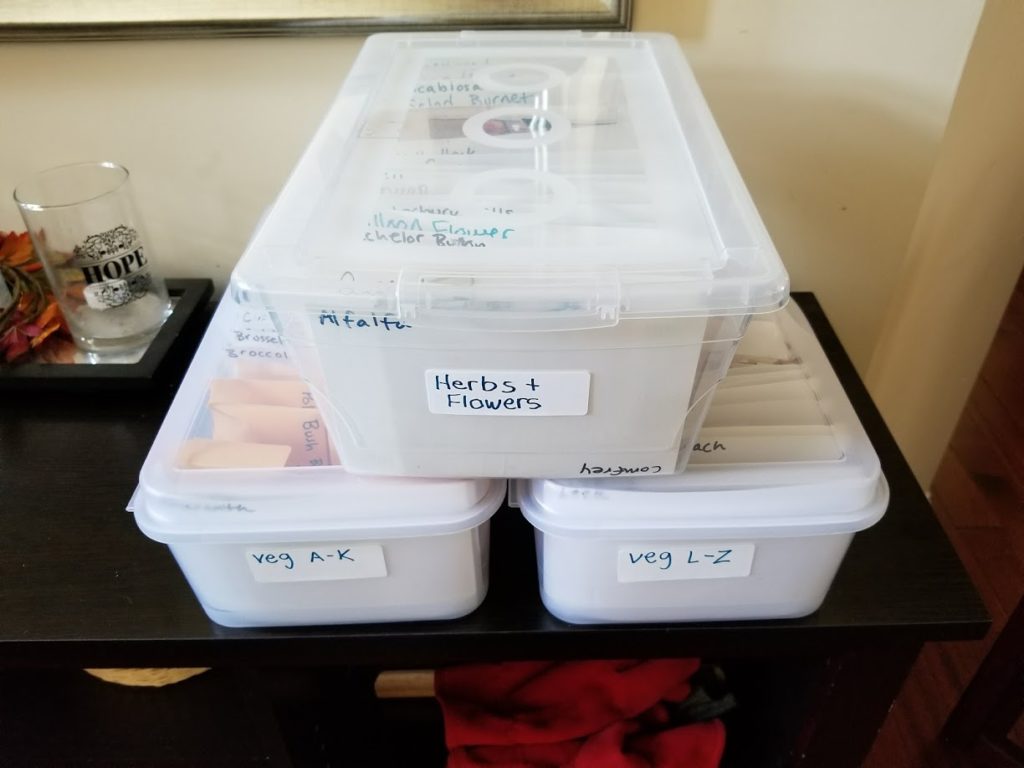 None started yet, but they are all nice and organized… I'm ready to go!
Well, a few reasons actually – but I'm not stressed or worried about being late with any crops this season. I am super excited because I have a new greenhouse… still packaged in it's shipping box… waiting patiently to be erected in the back yard.
When I got it delivered a few weeks ago, of course I wanted to rip it open and build it right away – but the weather has been very wet and snowy and uncomfortably cold, especially on the weekends when I have the time to devote to a day outdoors. I'm not going to struggle to figure out how to heat this greenhouse because it's just covered in plastic, so it didn't make sense to put it up when conditions weren't ideal. I was also dreaming of a plan.
I decide I would situate the greenhouse with the long side going east/west… paralell with the sun's path. The south side would have a raised garden bed right on the ground. The north side would have large shelves, for starting seedlings, pots and as many plants as I like.
I was blessed to get a bunch of waste wood from a general contractor I know and I used that to build my shelves this weekend!
Another storm is coming, so I don't know that I will get to set up the greenhouse this week, but when I do, I will have more room for seedlings than I've ever had before… and the raised bed on the ground will shelter my brassicas and protect them from the cabbage moths that took them all last year.
Just so you know… I bought a new raspberry plant and a blueberry too… so I've got some new material to add to the yard, even though I'm behind with my seedlings.
Also, I'm particpating in the Jersey Friendly Yards workshops and will be adding a new Jersey Friendly Garden to the yard! The folks at soildistrict.org are funding me with $150 worth of native plants to make it awesome. I will definitely post about my progress. In the meantime, to learn more about native plants for NJ yards, visit http://jerseyyards.org and check out the plant database. It's got really great search features and I love the pictures and info about each variety.
We moved the clocks ahead last night and it didn't get dark until after 7pm. Spring is coming!