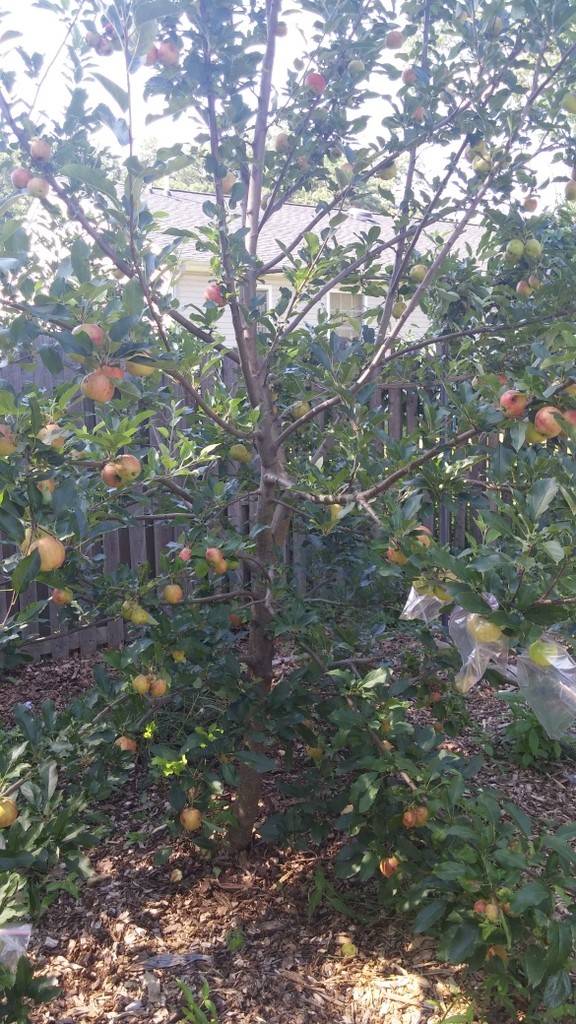 We've got the first real crop of apples this year on the Crimson Gala tree. I didn't thin them as much as I should have because I had read about June drop and I wasn't sure the toll it would take. Not many fell at all. I would love to have organic apples in the yard, so instead of spraying, I tried bagging a few of the apples to see how they would turn out.
Good thing I just did a few because it wouldn't have been worth the work to do the whole tree. The bags got too wet in the rain and never really dried out properly. It looks like there are rotten spots on the bagged ones and I'm not sure that it made any positive difference. That said, the unbagged ones don't look good on the Crimson Gala either – so I have to figure out something else to try next year.
The apples on the Granny Smith tree looks pretty good and on that tree, the one dormant oil spray in early spring may turn out to have been enough.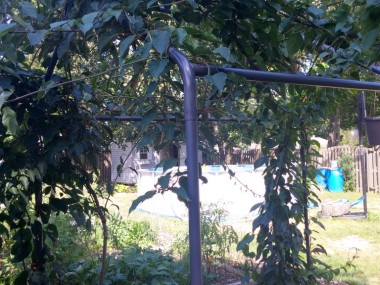 I wasn't sure if the Kiwi would do well this year because I cut them back so hard over the winter, but they are doing fine. No fruit, but the vines are really taking off. I'll need to do some serious trimming to keep it contained to the new structure.
I went out to tie the tomatoes up today and a ton of big green ones fell of the vines. UGH. I have them on a tray in the kitchen – I may try a fried green tomato thing this week. I've never had that, but I'm sure I can find a recipe online.
The thornless blackberries I got from Phil Potter last year fruited for me. The kids aren't crazy about them because they aren't very sweet, but I like them a lot. I don't know how I'll harvest them horseradish that's growing all around their feet. Carefully, I guess.
The Asian pears have done so well this year. I even got to taste one and it's great so far, though I don't think they are quite ready yet. The squirrel haven't taken them yet and I'm keeping a close eye. Maybe news has spread that we have a crazy yellow lab patrolling our yard these days.
These are my beautiful paw paw trees. No flowers or fruit yet, but they put forth a lot of new growth this year. I love the giant leaves on these trees and I can't wait to experience the fruit.