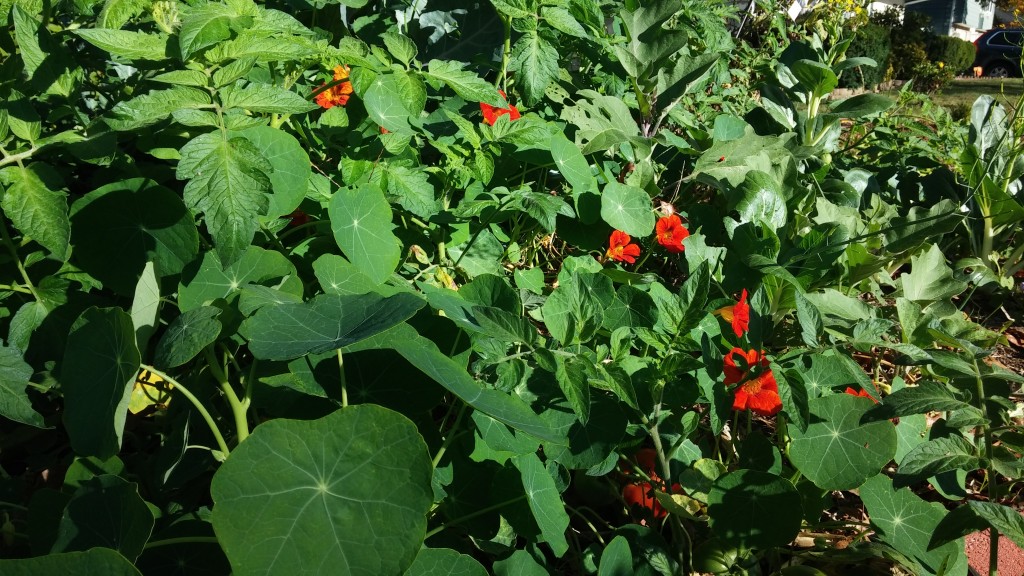 Last night the temperature got down to 32*. I'm sure it will bounce back up again but there was frost on my car this morning when I was getting the kids ready for school so it's officially getting cold at the Jersey Shore. Time for coats, time to put the veggie gardens to bed for the season and time to plant the garlic for next summer. I'm going to put the garlic in the keyhole garden this year because the backyard gardens may have to change a lot over the next few months and I don't want to lose the crop. I also better locate and dig up my horseradish before the plants die back completely and I forget where it is again the way I did last year.
My husband, kids and I are combining households with my Mom so we have another doggie family member in the house now. Vanna, a three year old yellow lab, is tearing up the back yard as she runs back and forth, but I wouldn't have it any other way. She's funny and she keeps us all on our toes and is a big pain in the ass. She did kill a squirrel in the yard a couple of weeks ago and freaked us out a little so we are a lot more careful now to scare away any critters before we let her out back. I fenced off the gardens with a low fence during the summer to protect them from the wandering pooches, but the fence effectively kept me from puttering around in there as much as I would have if I were allowed to free range. haha. My gardens were overgrown and messy for most of the summer.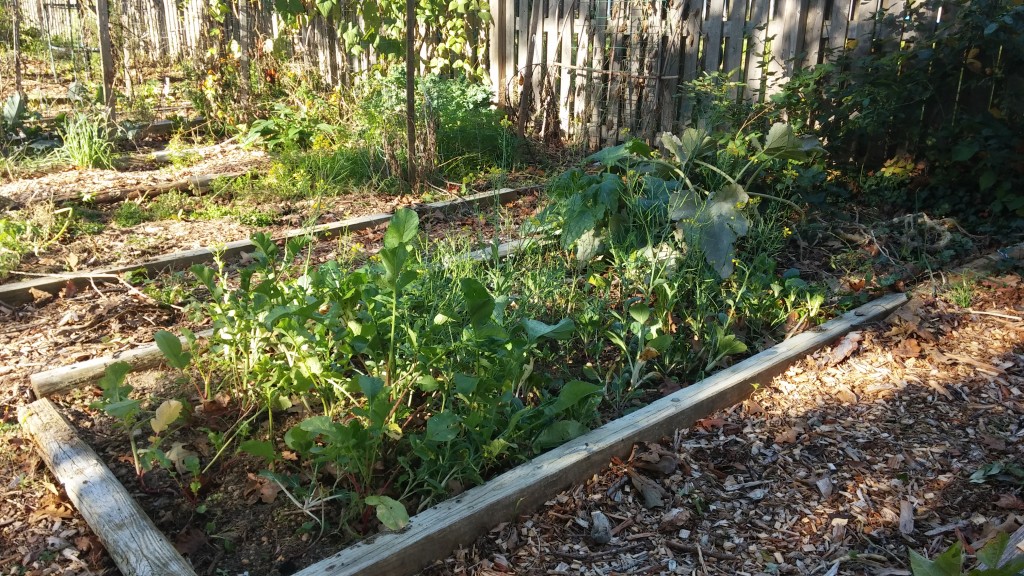 The tomatoes got blight, but we suffered through and got a few armloads off them anyway. My cucumbers were killer this year and it seemed like we got hundreds of them off just a few plants. I don't love lemon cucumbers, so I don't plan to grow them again. I got a tasty banana melon out of the spiral garden in the back but the watermelon I grew nearby was barely pink when I cut into it and not sweet at all. There is still a lot of kohlrabi out there and it's doing very well but the pok choi bolted almost as soon as it came up. I have way more parsley this year than I ever needed, but I think the plant is lovely and I would use it to fill in any bed, anywhere. Can you ever have too much parsley?
Once Mom's house sells (we are nearly ready to list it) we will be either renovating this house to add more square footage, a bedroom and a bathroom or we will be moving somewhere close by. This puts me into the position of starting from scratch with a brand new patch of earth and transforming some bit of lawn into garden someplace else. *sigh* It's fine. I can do it. I know how much work it was but I also know how to do it better now. If I knew then what I know now and all that… I'll certainly transplant and take some of what's here with me where ever I go. We won't sell this house before we find something new so I'll be able to move a lot of perennials and even some fruit trees to a new property without much trouble. I'd like to find a lot at least as large as this .28 acre that we have now but this time I anticipate a little more flack from my family when I creep out and consume more and more of a lawn each year. Don't you worry, I'll cross that bridge when I come to it.
What I'm struggling with now is the decision to convert much of the existing annual garden space back to a traditional yard, or clean it up and get it ready for next season because who knows how long it will take to sell and what's wrong with having gardens?! Haha. I know a yard will appear to more buyers but I just don't know if I could toss grass seed over my fluffy, amended, double dug vegetable beds. I can't bring myself to take that step. And so, procrastination ensues!