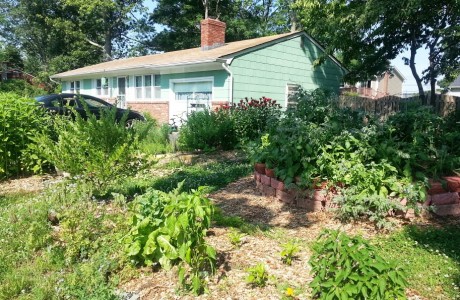 I'm just tickled by what's happening in the yard this year. The gardens aren't a total mess yet, that will come in a month or so when the plants are huge and some have had it and need to be cleared out. No, right now, things are blooming, veggies are just starting to come in and the greens are coming full force!
I tell you with confidence that I can grow some SERIOUS Chard and Garlic in this yard. My garlic is proud and tall and just barely starting to turn yellow at the tips of the leaves. The chard have HUGE, fluffy leaves that just seem to wave at me proudly when I see them. The kale in the keyhole is LAUGHING at the cabbage moths that don't seem to be making a DENT in it this year as the rat tailed radishes wind their way through the patch poking up a spicy pod here and there for a snack as I stroll around.
I'm reminded tonight that I should plant another wave of zucchini so that I'm not devastated when the squash vine borers steal the productivity of much current plants. Flea beetles seem to be making lace out of my eggplant leaves but the plants seem strong enough to power through and are starting to flower in spite of that.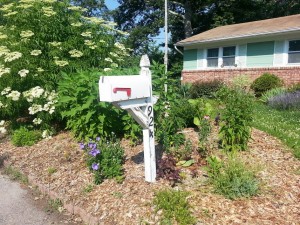 Earwigs are rampant in a few of the beds, using the bolting lettuce to hide during the day. They even converted one of my large borage plants into a creepy condo so that when I cut down the failing stem I could see them skittering down the hollow tunnel away from me to escape my prying eyes.
As the title clearly states, the elderberries are blooming. Both bushes are flowering this year and hopefully I'll get the berries before the birds discover them. I have my heart set on making elderberry wine and I intend to have plenty to share. The squash is coming in slow this year. I have it planted in the hugelkultur bed next to the driveway and it may be that the wood is stealing too much nitrogen from the small amount of soil into which I tucked the seeds. I sprinkled some bloodmeal around each one yesterday and hope to see improvement, and zucchini, soon.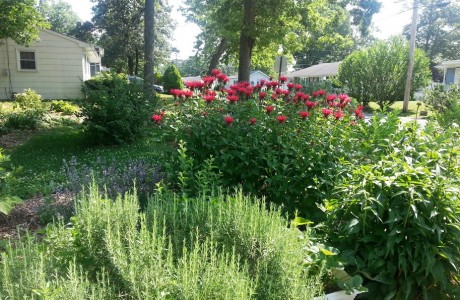 The small cutting of bee balm I planted last summer has exploded into a fantastic patch of the stuff. The funny looking flowers make me laugh when I look at them, reminding me of a Dr. Suess illustration. There are even stacked flowers where a smaller bloom emerges our of the top of a larger one which, for some reason, makes me think of Horton Hears a Who.
I never pick snowpeas fast enough and the plants reflect that. My peppers seems stuck and I may need to give them a boost with some epsom salt to get them going. The blueberries are turning ripe and I'll send the kids under the net again tomorrow to collect only the ones that have turned DARK blue, if you please. The Ozark Beauty strawberries are taking a break from production and who can blame them? We had so many during June I put berries we picked each day into the freezer that night because I knew there would be more ready outside by morning.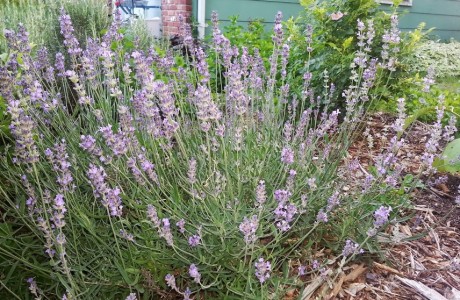 I haven't seen a single ladybug in a few days, but I did see a frog in the back recently which only renews my longing to build a pond (or at least a puddle) for them.
I have yet to finish my rain barrel project, but hope to post photos of the completed system shortly.