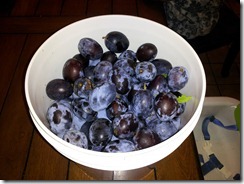 My Father-In-Law grows a vegetable garden in our home town at the Jersey Shore. He grew up on a farm in Italy and the man knows how to grow what he likes. It's funny because I read so many gardening books and magazines and blogs, but he just knows from doing! Whether he likes it or not, he inspires me and his garden the reason I planted my first vegetable garden in this yard.
He's also got a handful of fruit trees and earlier this week he harvested 5 or 6 buckets of Italian plums. I came home from their house the other day with a bucket of these perfectly ripe fruits and wasn't sure how to use them. A couple of years ago I had made plum pie with some of that year's harvest, but I think he picked them much sooner that season and they weren't nearly as sweet as this batch is. I also remember the recipe having too much orange juice in it – the citrus really overpowered the plum flavor.
I washed and pitted and refrigerated the bucket. This morning I decided to make Plum Crisp! It has only a few ingredients and was very easy to assemble. 2 1/2 lbs of plums in the recipe allowed me to use a lot of fruit I had and you would get a substantial amount of plum in each serving of the dessert, as opposed to a bread or a cake which would only have enough plums in it to really flavor the bread. I found the following recipe on Martha Stewart's Website: Plum Oatmeal Crisp.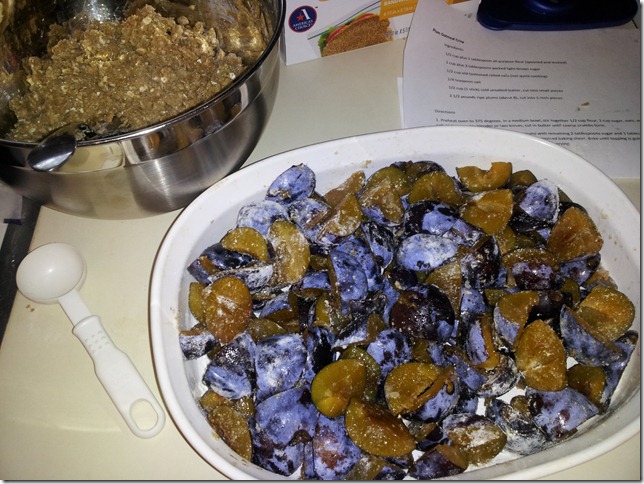 Washed, pitted and cut plums. Crumbly topping about to go on top.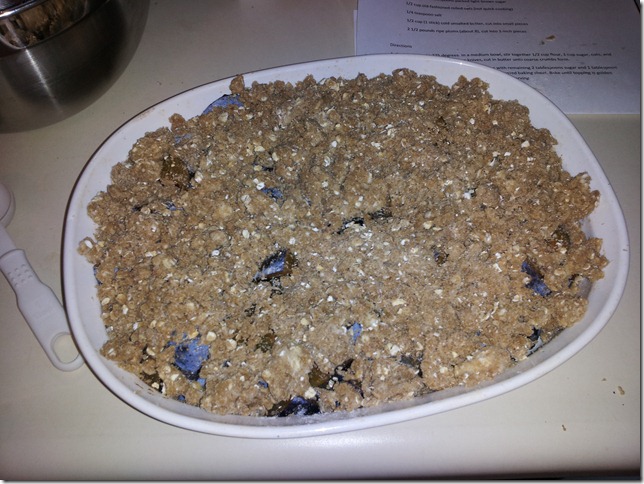 The only thing I did "wrong" was use quick cook oats instead of rolled oats in the topping. I thought it was a VERY good recipe, but when I make it again I will probably try to make sure I have the right kind of oats, just to see the difference. My DH did say he would have preferred it if I peeled the plums first. Um…. no. I washed, pitted and cut them up. These are NOT big plums. Peeling them would have been a massive pain in my backside. Forget that. It also wouldn't have been as delightfully PURPLE anymore. I love purple.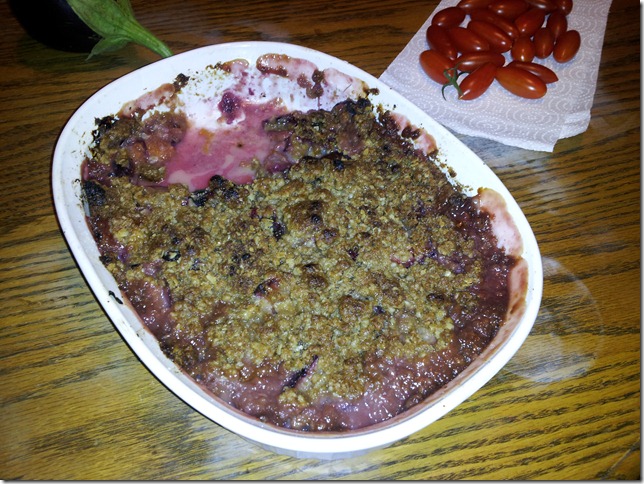 We had some warm with a slice of ice cream cake for my birthday this afternoon. I'm going to heat up a few servings of it for breakfast for me and the kids in the morning. It was so good!