My apple trees are just about to bloom! The granny smith AND the crimson gala both have buds. Whew! Last year they didn't bloom at the same time, with the flowers actually opening up a few weeks apart. Looks like they will be good pollinators after all.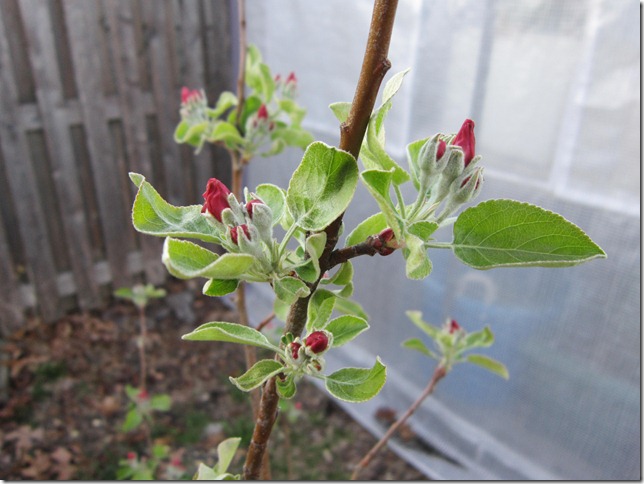 I planted some radishes, a few lettuce and kohlrabi seeds in the keyhole garden today. It's go time! Grow, grow, grow! I'm also starting another flat of eggplant and tomatoes. My tender starts aren't starting very well out in the greenhouse, so I'm just going to set up a zillion of them. If a few make it from each tray, I should have enough for the garden.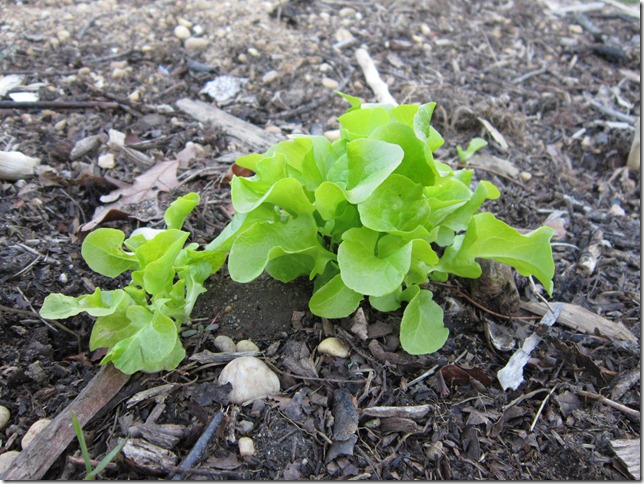 I know I must have tossed some bolted lettuce into my compost in the fall because I have pretty baby lettuce popping up all over. I am praying that it works the same way with the chocolate cherry tomatoes I had coming out of my ears last year. I only had a few seeds left and they failed to germinate this season. I'm crossing my fingers for some volunteers. I think I'm going to have to leave a whole garden bed open for volunteer tomatoes because I'm not going to want to toss any of them!! I'll have a tomato growing in every container! haha!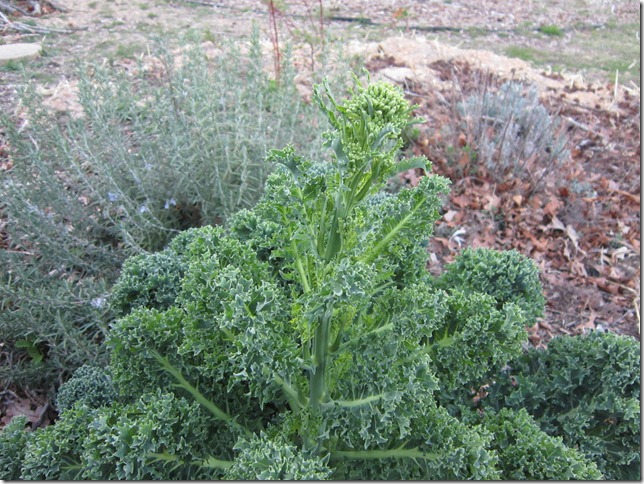 The kale that lasted beautifully through the winter is bolting now and about to flower. I'm going to save seeds from these. I made kale chips today (I should have taken a picture!) so I could get some good use out of the plants before they flower. The first batch was just perfect, but I left the second batch in for 2 minutes too long and they burnt to a crisp. Seriously, those suckers burn fast. 13 minutes is PERFECT.
Kale Chips

A bunch of Kale leaves
Olive oil
salt / seasoned salt

Preheat oven to 400* Wash and dry the kale leaves, then tear the leaves off the stems and rip them into bite size pieces. Toss the stems into the compost.

Put the leaves into a large bowl or container. I used a tin roasting tray. Drizzle about a tablespoon or so of olive oil onto the leaves. Sprinkle them with salt and/or seasoned salt to taste – as if you were salting a bowl of popcorn. Massage the salt and oil onto all the leaves. Spread them out in a single layer on a cookie sheet or two. I used tin foil to line my sheets, but I don't think that's required.

Bake for 13 THIRTEEN minutes (or so, depending on your oven). STAY CLOSE BY and stay off Facebook (ahem) around the 13 minute mark so you can be right there when they are done. They are very tasty, salty and crispy when they are done.
I wish I could say my kids ate them, but they didn't. So I finished them myself. Sooo good, and really crazy easy to make.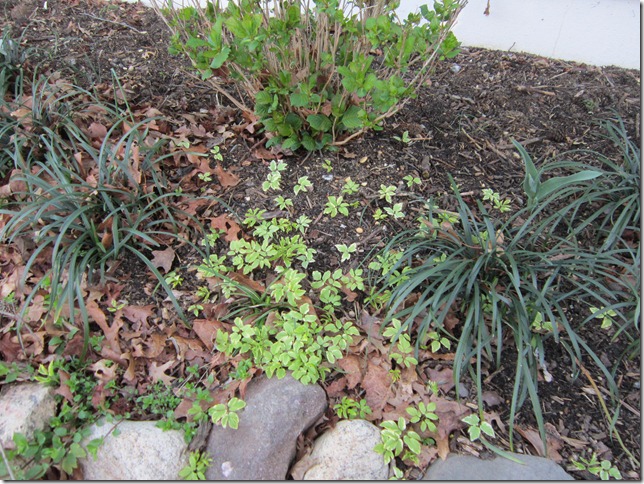 I transplanted a small clump of snow on the mountain from my Aunt Kathy's yard last year. It's spreading out like crazy and I just love it. It makes me smile every time I pass by. How CUTE is that?