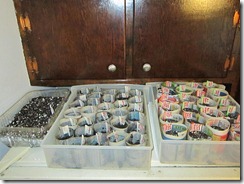 I had my trays out in the back yard for a few days, but I'm worried it's too cold in the greenhouse to have them germinate so I've moved them inside until they sprout.
I've also decided the try to pre-sprout the few Lincoln pea's I have left from last year's packet before I plant them out. that packet did miserably last year and I think it's because they rotted in the ground before they sprouted. I put them in a damp paper towel and sealed them into a baggie for a day or so. I'll check them tomorrow and once they sprout I'll put them in the ground.
I'm pricing out mulch delivery. I can't wait to hear the tree services outside hoping to get a free load. I am already seeing weeds coming up out there and I am really looking forward to mulching everything again. The best price I've gotten so far is $120 for a truck load from a tree service. He says it's about 10 yards. That's delivered. I think that's a good price so I'll probably go for it.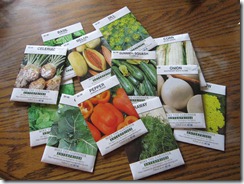 I have to give a plug to averagepersongardening.com – I did it. I joined the seeds of the month club. I got a great deal when it was on sale and just received 12 packs of seeds yesterday! Of the ones he sent me, I'm starting some celeriac indoors. I've never had that or grown it, so that's fun. He sent a nice variety of herbs/veggies and even a packet of banana melons that I'll definitely direct seed when the weather gets warm. Thanks Mike, The Gardener!
My Stark Bro's nursery order came yesterday! The weather is too wet right now to dig in my trees, I think I'll have to wait until at least tomorrow. I hope it dries up a bit. I have a honeycrisp tree and a two in one asian pear in that box! I'll also dig in the loquat tree, move a couple of nanking cherry bushes to make way for current and future mulch deliveries and plant my kiwi's.