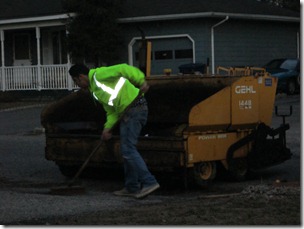 How strange that the day after I post about my ugly, carpet covered driveway and my desire for paving services, a residential paving contractor comes knocking at my door. Literally! I was outside shredding leaves yesterday when husband comes out into the backyard and says "Lisa, should I let somebody pave the driveway?"
"YES!" Was my immediate and giddy reply! These guys (R. Depasquale & Sons Paving in Jackson, NJ. Phone: 732-928-7362) gave us a "We're working in your neighborhood" kind of deal that we couldn't refuse. Listen, if this ever happens to you and a contractor approaches you at say 3 or 4 in the afternoon and says "Hey, we have all this equipment and we could use one more job before we pack it in for the day…" Don't shut them down until you've heard what they have to say. We've had these golden opportunities drop on our doorstep from time to time and we've had tree removal and landscaping services done this way. Ok, the landscaper was a real piece of work and I ALMOST regret that one, but he did do a lot for the price that I couldn't have done myself, so there's that. That said, if you are looking for a paving contractor who services all of New Jersey, residential or commercial, and don't want to wait for someone to knock on your door, don't hesitate to call these guys. They run a big operation, but the owner was on-site and accountable, didn't demand payment until the job was complete and it's a family business. There were 4 members of the family working here last night. I like that.
It was just starting to get dark and though they were completely done in 45 minutes, they were working by headlights by the end. They leveled the rocks and woodchips that were in the unpaved section, chipped away the edges of the already paved part, spread the new blacktop and pressed it down with the hot steam roller machine. There were guys working with shovels and what looked like big push broom squeegies cleaning up the edges. I see a slight seam down the middle today, but the rain water seems to be running toward it and down to the street there. I think they did a great job. What a huge difference it makes to see it paved like this. I'll be able to bring my mulch right up to the edge and the gardens will look fabulous right up next to it.
BEFORE…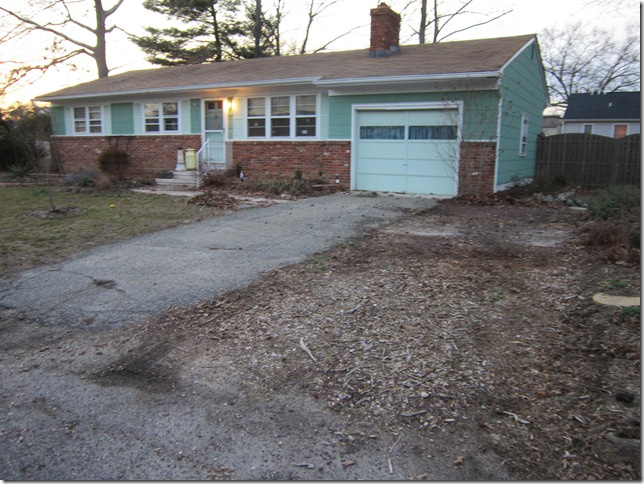 AFTER!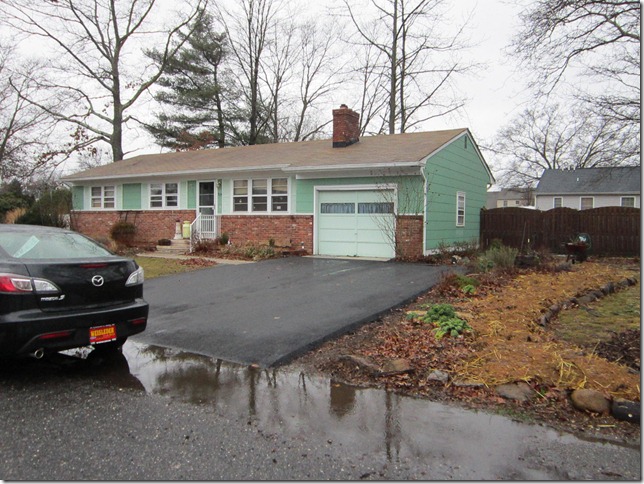 It's raining today so it's keeping me from playing on it which is probably a good thing. He said not to park on it for 3 days and that it could take up to a year for it to be really hard and solid. In the meantime, don't put any significant pressure on any small space, like using a jack or a kickstand. It's kind of smooshy and could make a dent. Another knowledgeable friend suggested we park the cars in different configurations over that time so we aren't always in the same spot, which could make marks. Good ideas.
YAY! I got a new driveway! Now we are so happy, we do the dance of joy! Hey, hey, hey, hey, hey, hey, hey! XOXO