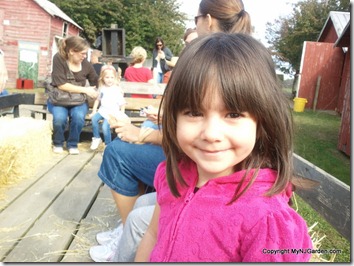 My daughter's preschool had us take a school trip to Westhaven Farm in Allentown, NJ today. The cost was $6 per person, $12 for both Abbie and I, and it was a long ride from Beachwood, about 45 minutes away. If you plan to go, don't rely on your GPS to get you the last part of the way there. On 195 west, get off at exit 11, make a left and make another left. It's the first farm on the left. Google Navigation (the GPS on my phone) took me down to exit 8, then back to exit 11, then back onto 195 to head down to exit 8 again. I was cussing at her before I called the farm to find out how to actually get there. Abbie did have a really great time while we were there so I don't mind the cost of gas and windshield time (too much).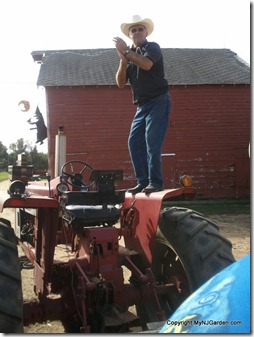 When all the families arrived, we loaded up 2 wagons full of parents and kids and headed out on their hayride around the fields and greenhouses on the farm. The farmer was a nice man who spoke loudly and tried to get the kids revved up to enjoy the ride.
The farm was decorated with little scenes of recognizable characters that the preschool kids would enjoy, they had Spongebob, Mater from Cars, a Spiderman hanging in a tree and a few very slightly creepy decorations for Halloween like ghosts, fortune tellers and witches. As we passed each little scene a new, appropriate bit of music would play on the speakers attached to the wagon to go with the scene we were passing.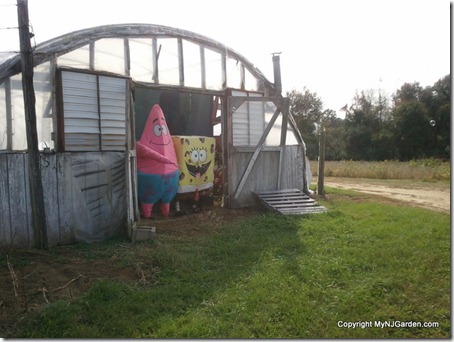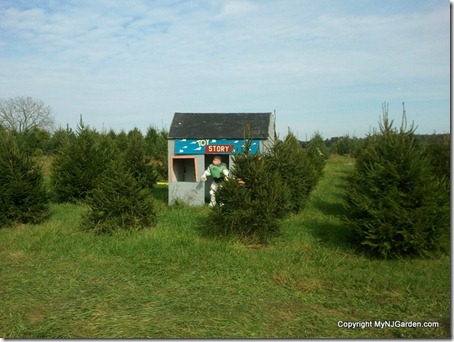 As we rode along, I was looking forward to seeing what was growing in the fields. I noticed what I thought was a cover crop growing almost everywhere and a couple of fields that had Christmas trees growing in different stages… some very small, some medium and some very large trees.
At one point, the hayride was stopped so that the kids could get out and choose a small pumpkin from a bunch that were spread around on the ground. This was not a pumpkin patch, they had been picked and placed here for the kids to choose from. For all the kids knew, this was the way pumpkins grew, they just popped up out of the ground to be "found" by the farmers.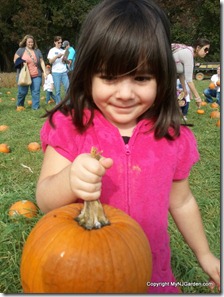 After we chose our pumpkin and took some pictures I asked the farmer about the crop growing in the fields on either side of us. He said they were soy beans. He showed me that they weren't quite ready to be harvested yet because some of the pods were still green and when he opened one he could still bite into a bean. Once all the leaves fell off and they are all dry, he said the combine will come through and separate the beans from the plants and pods. The plant waste will fall back on the field to be tilled in later and the beans will be tested for protein content. If it's high enough, they will be used for human consumption (but he said they are not edemame), if it's not high enough, they will go for animal feed or oil.
He did say that he does grow most of the pumpkins the kids pick here on the farm, but we didn't get to see the patches where the pumpkins actually grow.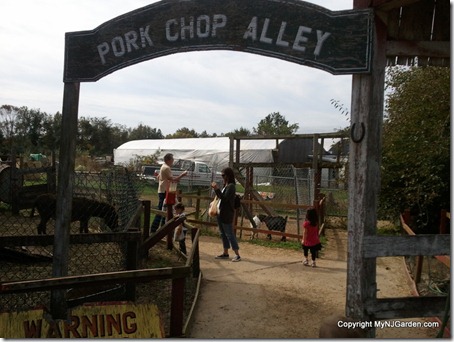 Though this was a class trip, I was disappointed to discover that they had no intention of really telling the class anything at all about the farm, the way it worked, what they grew, how things grow… nothing about any of that. I asked about all of this one-on-one and no one else heard what he had to say about it. I know the kids are only three, but I think they would have been able to get it if they threw in a little info during the hayride.
We jumped back on the wagons and headed back to the boarding area. The kids each got a bag with a dried ear of corn and a gourd in it. We were able to see a few of their animals, 2 donkeys, 2 goats, 2 sheep and 3 pigs. Pork Chop alley? Man, that's messed up.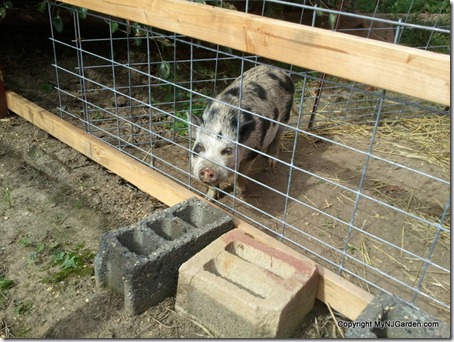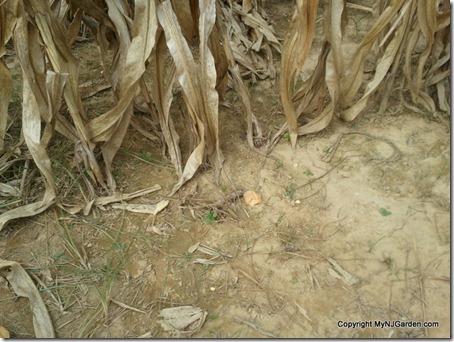 I was so surprised to see how hard the ground was in the corn field! If I had soil with this much clay in my own yard I would insist that not a single thing would grow in it, but these corn stalks sure did! How do the roots bust through it?! A-maiz-ing…. get it? hahaha.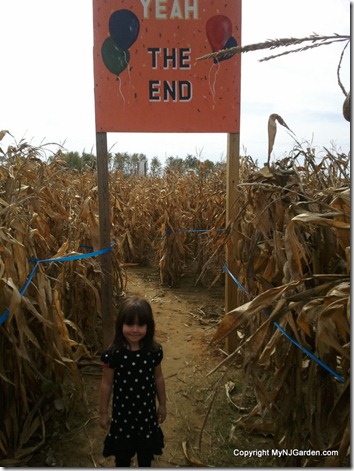 Before we left we also took a walk through the corn maze. Abbie wanted to try it  and I didn't want to let her know that these things have always kind of freaked me out, so we gave it a go. For a moment or two I did feel a twinge of doubt that made me want to tromp through the field of corn stalks back toward the house where I knew my car was parked, but instead, we followed the paths that were tied off with blue ribbon and eventually found out way out with a small group of survivors that we ran into along the way.