A-girl and I took the doggie for a walk after we put G on the bus today and heard the tell tale sound of trees being chipped somewhere close by. I brought Kylie home and put A in the car to find them only 2 blocks from the house, with a truck just about full of chipped trees! ALRIGHT! I asked one of the guys, "Any way I can get some of those wood chips? Maybe half the truck? I live 2 blocks away." He says, "Well…" shaking his head… "I wanna dump the whole truck."
Help me Rhonda.
I said, "Ok. I live at 924 – put it right in the driveway."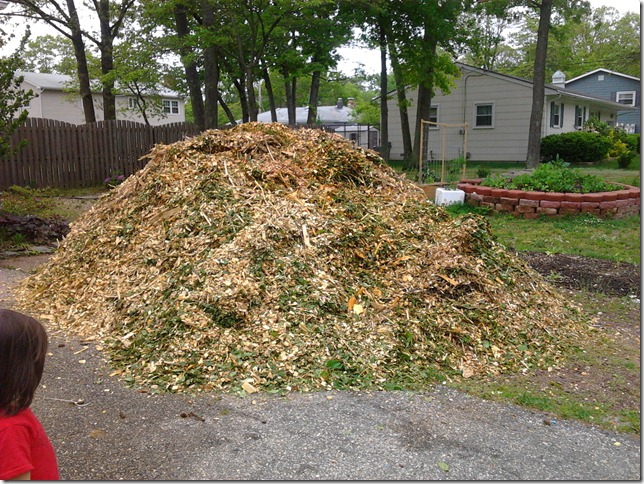 5 minutes later one of the guys is tromping through my herb bed to direct the truck up and oversee the dumping – but hey! I got LOTS of free mulch! I love that all the leaves are mixed in there too…. Oh yeah – Look out. I'm gonna have some kickin' pathways and a nice thick border all around my fence perimeter. Hooray!!
"Opportunity is missed by most people because it is dressed in overalls and looks like work."
– Thomas A. Edison