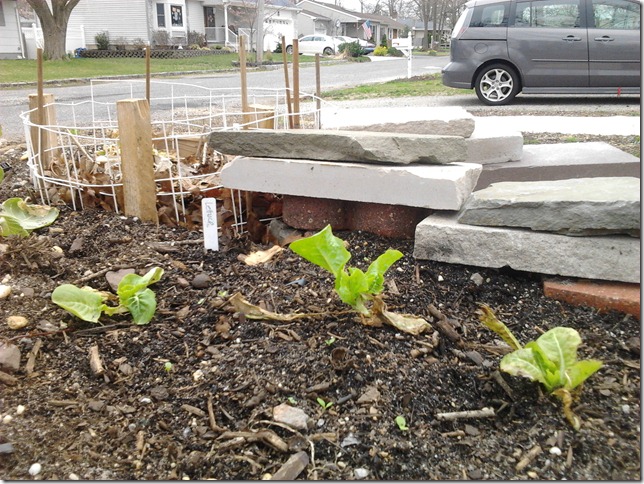 These are some lettuce transplants that are starting to grab hold in the keyhole garden. I've started some greens in there from seed and they are coming up slow. You can see a couple of tiny seedlings down near the bottom. I can't wait till it's filled with ruffled green leaves!
The nurseries are sending out my orders fast and furiously, so I am digging things in as soon as they arrive. On the 9th, I planted two Elderberry bushes I got from Ebay. I got a shipment of berries: Consort Black Currant, Red Colossal Gooseberry and 2 Jostaberries and planted them on the 10th. Farmerseed sent me a few free bulbs with the order so I planted the Orchid/Exotica and Shamrocks on the same day. On the 11th I planted 2 varieties of lingonberries: Red Pearl and Balsgard; the Northline Serviceberry and 2 Beach Plums from Raintree Nursery.  And then yesterday, the 12th, I planted my All American Paw Paw trees from Miller Nurseries!
I'm also moving the broccoli and cabbage seedlings out into the garden. I'm hoping they can handle the cold because I need room in the greehouse for the new flats of warm weather stuff I started today. In the new flats we have zucchini, yellow summer squash, pumpkin, melon, spaghetti and butternut squash, cucumbers and purple tansy flowers to keep squash bugs away. I need to build those trellises.
I'll certainly need to put the heater back in there to keep these seedlings cozy.
OH! And I ordered a super cool rain barrel from Amazon. This is shaped like a terracotta pot and I think it'll look really nice, since it's going to be sitting on the patio right next to the back door. I need to take a trip to Lowes for a downspout connector and then we will be good to go! 65 gallons of rain to quench my thirsty plants!
Here is a gallery of photos I've been taking outside the last couple of days. Everything is so tiny and new, but I swear in a couple of weeks this stuff is gonna get HUGE!