The area around our back yard gate has always gotten terribly flooded every time we get a hard rain. The close proximity to a downspout and the hard clay soil in that area had me scratching my head, unsure of how to fix the problem. I waited too long to get started and the heavy snow this winter kept that area too cold and too wet for too long. The mountain laurel I rescued when the hack landscaper rolled over it with his bobcat, finally succumbed to drowning and I had to chop it down to ground level. I feared the nearby rhododendron will be next to die, so I was hopeful when I read in Square Foot Gardening how to improve a garden site with poor drainage.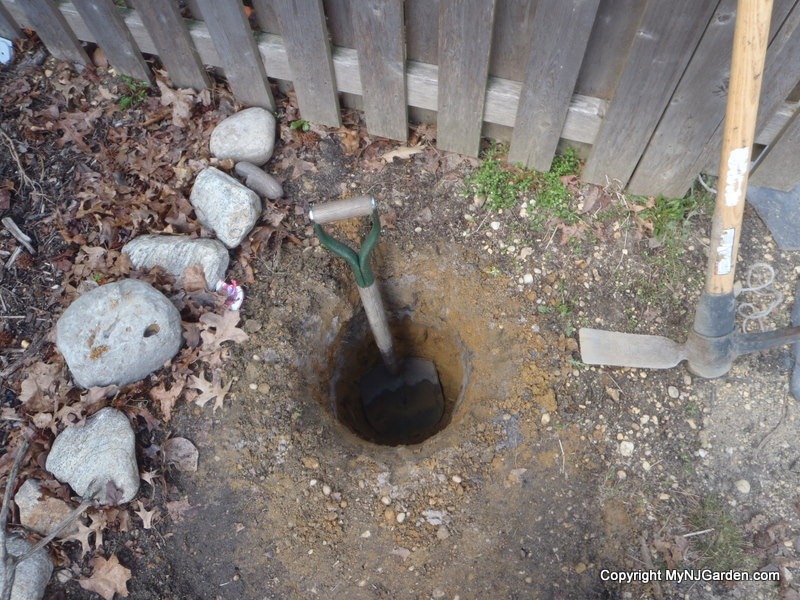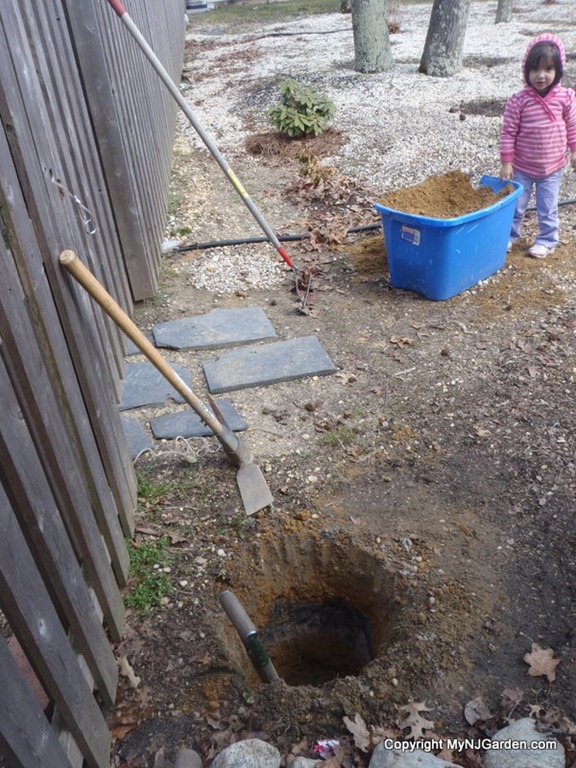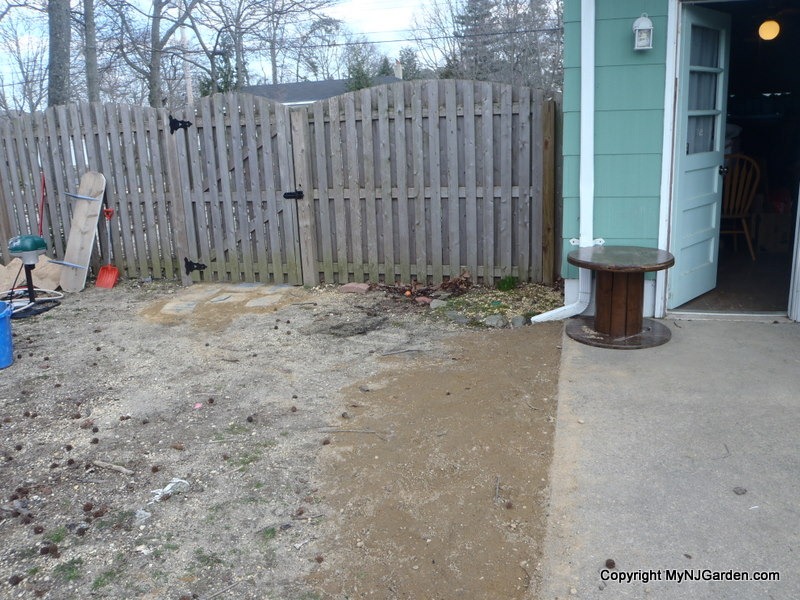 I dug two deep holes on either side of the gate about 1' wide and about 3 1/2' deep. I filled each hole back in with white stone and I am actually looking forward to this crazy 10 day rainy forecast to see if my solution will work! I used the dirt from the holes to fill in an eroded area next to the patio and to raise the level of the ground right through the middle of the gate.
I've been planting cool season crops in the backyard veg gardens, greens in the keyhole garden, some rhubarb, blue potatoes, Jersey asparagus and my elderberry bushes – all the planting dates are listed on the garden calendar.
That's so easy to update, and it will be easy to go back next year to see what happened when. I was taking a walk through the yard this morning looking around and saw that some squirrel or something had dug up one of the new rhubarb roots I put in and tossed it outside the hole. ACK! I tucked it back in I hope it will recover. Dang varmints!
Went to Lowes today to buy a wheel barrow because mine has COMPLETELY fallen apart and while I was there I got a new digging fork and a stirrup hoe. I was trying to decide what I would use to stake my tomatoes this year so I went to look around the lumber department. Any decent metal tomato cages are around $7 each and I knew I wanted to try something different. An employee approached me and told me that he was cleaning up the dept and I could have everything on this trolley cart for $10!! He also offered two imperfect 4×4 cedar posts (regular $20 each) for $5 each. So check the picture here – I got all this for $20 – totally worth it. I'm gonna build such cool trellises for the garden this year!