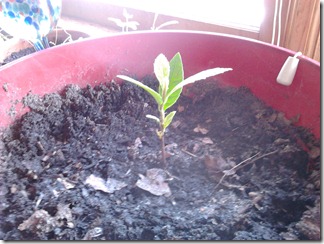 And that's probably all I'll ever do because it's not supposed to grow in this zone. That's what I get for clicking "buy now" on ebay without researching the plant more extensively first. haha! Oh well, It's happily stretching out in the container I planted it in soaking up the weak winter sunlight from my only sunny window.
Since January 17th I've been following Dr. Joel Fuhrman's eating strategy (diet plan?) as described in his book Eat to Live: The Revolutionary Formula for Fast and Sustained Weight Loss
. I needed to do this now. Illness, recent deaths in my family and my growing concern over the approach of western medicine have guided me here. I feel like I need to take responsibility for my health and the health and eating habits of my family. That said – I've lost 12 lbs so far!!! YES! I mention this on my gardening blog because this is a PLANT BASED diet and Dr. Fuhrman believes that most Americans suffer from so many health problems because their diets are produce deficient. AGREED!
I've been spending big bucks in the grocery store to try to keep up with eating a plant based diet and I can't WAIT for my garden to start helping me out. I am actually really excited to see if I can get MOST of my food from my gardens this year!
More winter sowing done. I'd like to set up a couple of more flats, but I will set up my aero garden inside by the end of the month. I got a garden starter tray which will allow me to start 66 plants at one time under those little grow lights!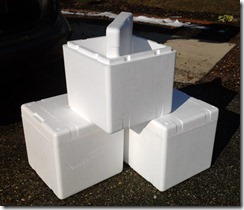 I've been keeping my eye on the "free stuff" page of craigslist and my local freecycle group and found a lovely person who gets a steady supply of Styrofoam coolers shipped to her each month. She's looking for someone to take them off her hands and I am happy to do it! They are a nice size and I think each one could easily be a happy home for a tomato plant or eggplant or pepper this season! Large planters and flower pots are expensive – so I'm pretty psyched to find this resource.