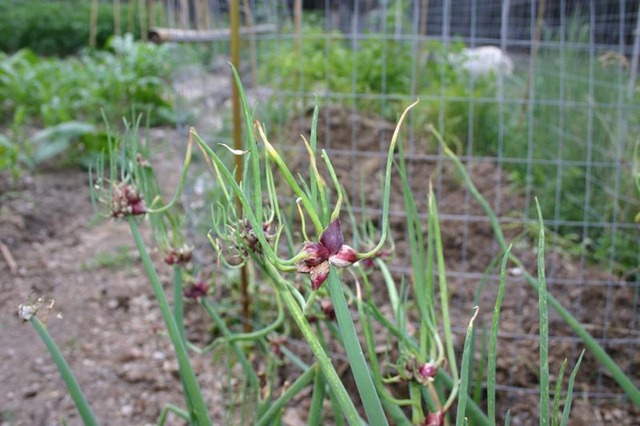 I planted the Egyptian walking onions (the picture to the left is from wikipedia, not from my garden) I got from Ebay today. I've had them in my fridge for a couple of weeks because they actually came the afternoon before we left for our Disney vacation. I hadn't had the chance to plant until today, so I hope at least some of them come up. I mixed compost into the bed my tomatoes were in this year, separated the bulbets and planted them about 1" – 2" deep with about 4" – 5" inches in between.  I planted about half the bed. These are considered perennial onions and I'd love to able to keep the patch going once I get it started.
I boxed out a new vegetable garden bed for next year and filled the area with compost. I'll leave it this way for the winter and dig it in a couple of weeks before I plant in Spring. I plan to start 2 more garden beds this way which will give me 8 beds in the back yard boxed out this way 4' x 8'.
I've collected so many seeds during the last few months that this is still probably not enough room for everything I want to plant, but I'll be putting edibles into the front yard too, so I hope that I'll have enough time and energy to dig it all up.
I may have to choose between pumpkins or melon as my 'take up tons of room' crop. Which would you plant?