I haven't run out of steam yet. There is so much to do out there! It's taken some time for me to get these beds dug out, but since it's been raining here a lot lately, the ground is nice and soft and much easier to dig. These beds might look sparse and kind of unimpressive now, but the perennials and shrubs will come back each year and fill in the space (hopefully!).
The photo below has garden mums I moved from one of the foundation gardens, a morning glory volunteer I transplanted, hoping it I could get it to climb the mailbox, but it hasn't done that well, 2 new 'sentimental blue platycodon' perennials and the northern cranberry I transplanted from the back of the yard.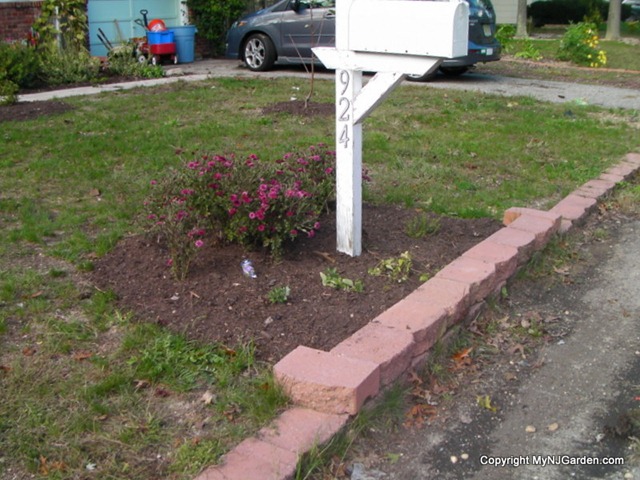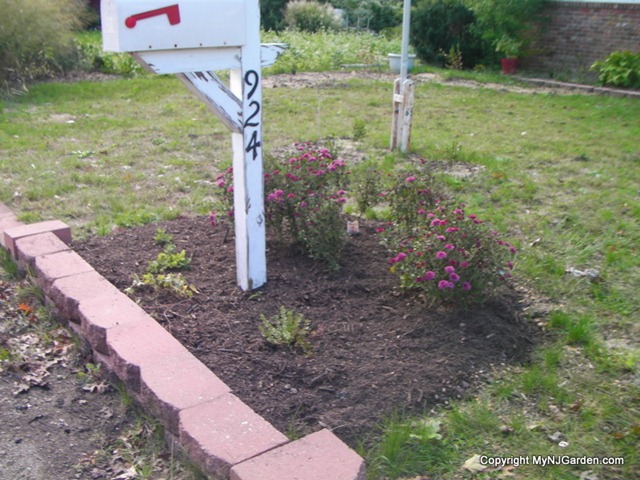 The garden below has iris I got for free from an Ocean County Freecycler (yes!), 3 Magic Carpet Spiraea shrubs, 3 true lavender plants I transplanted from a container I had started them in from seed in the spring, 3 butterfly blue scabiosa, a sedum and 3 carpet phlox.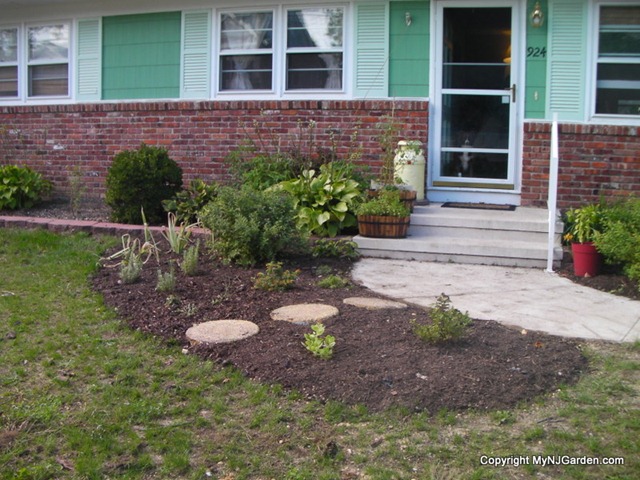 Same garden from a different angle…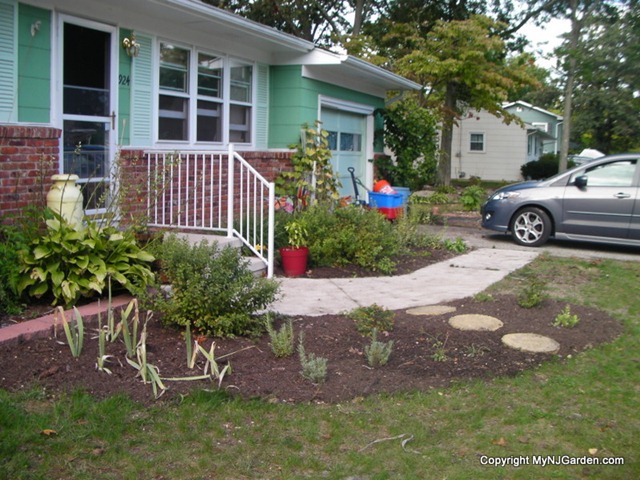 The next garden is really in the middle of a big change. I've taken out the hydrangeas that were in the back, behind the lilies and moved them to the shade. I'd LIKE to put a dwarf mountain laurel there, but I'm considering a couple of blueberries there instead. I may have some trouble harvesting them and they won't give much winter interest I guess, so I'm still deciding.
In this photo we have stella d'oro daylilies, a magic carpet spirea, emerald euonymus, a very small freecycled hosta that I hope comes back nicely next year, 2 dianthus and the last days of 3 cucumber plants I'm about to rip out and throw in the compost pile.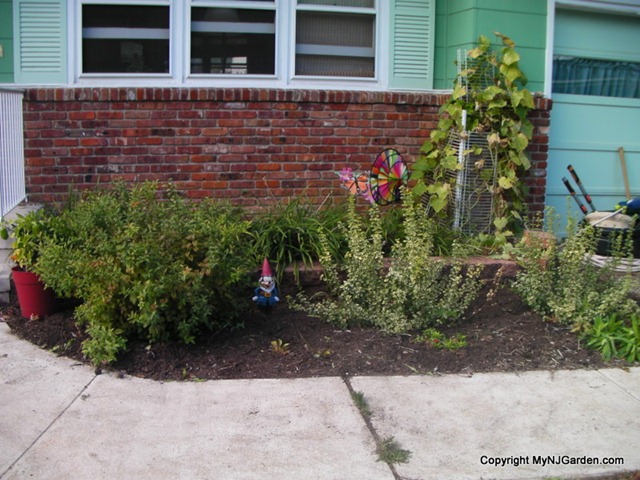 In the garden below we have an existing rose of sharon, 3 'palace purple heuchera' a perennial from walmart and 3 liriope I divided from plants in my Mom's garden.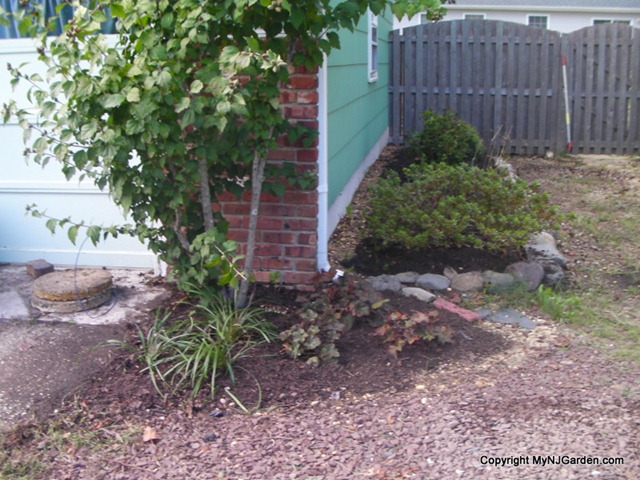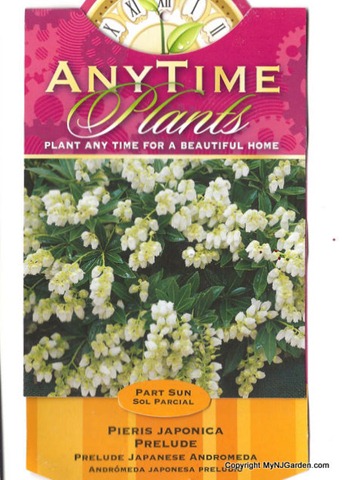 This garden is on the north/east side of the house and doesn't get much sun but for the early morning. The soil was SUPER hard and heavy here, so I dug up the whole length of this bed and moved the 2 existing azaleas out of their small holes and into some nicely amended soil. The shrub in the middle of this bed is one of the forever pink hydrangeas I moved from the lily foundation bed and the shrub in the back is a 'Pieris Japonica Prelude' my Mom got for me from Loews for my birthday. A freecycled hosta and some more of the liriope fill in between the shrubs here.
A BIG thank you to the Beachwood Recycling Center for the 5 or 6 garbage cans of compost I picked up for FREE! I've got 2 compost bins going, but I didn't have enough to create amend all these beds AND top dress them when I was done.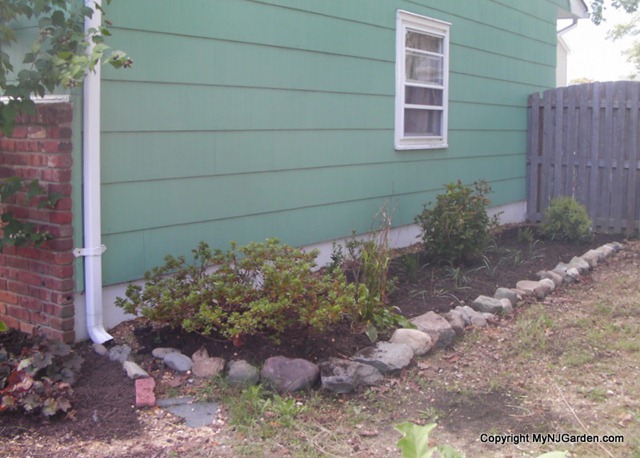 This is the shady 'forest garden'. In the back left corner (can't see them in the picture) are 3 rose of sharons I put in last fall. They aren't dead, but not doing real well either. They seem to be biding their time… We also have 4 hydrangeas and 2 hostas and an azalea I moved from the foundation gardens. Down in front are 3 more liriope from Mom's house.