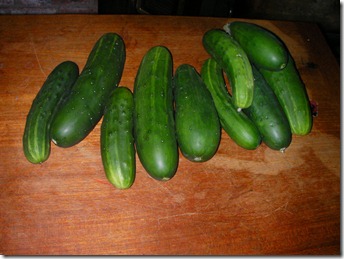 I cheated. The recipe I used was for refrigerator pickles – so no cooking or real canning involved. It was actually SUPER easy so I can't wait to try them and see how they taste. I had 10 cucumbers and used about 6 of them to make these pickles tonight. I had to increase the brine by 1/2 the recipe to make enough to cover the pickles. For the amount of brine in one recipe, I think 3 large cucumbers would be just right.
EASY Refrigerator Pickles
(one batch)
3 large cucumbers
2 cups cold water
1/3 cup white wine vinegar
1 tablespoon salt (table salt or sea salt)
2 teaspoons sugar
5 whole peppercorns
About 10 turns of fresh ground pepper (from a grinder)
1-2 cloves garlic
optional flavor additions: fresh dill, jalapeno pepper, onion, habanero pepper, etc.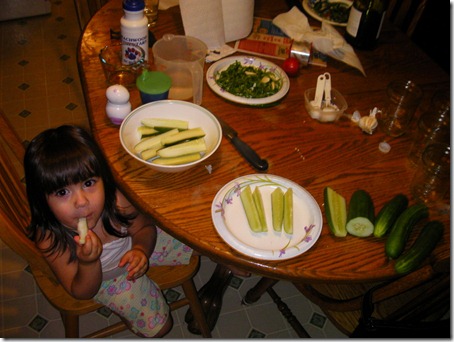 A container to put the pickles in. I used wide mouth mason jars, but the recipe recommended a Ziploc freezer bag. Don't use a metal container.
First cut off the ends of the cucumbers because they are typically bitter. Cut the cucumbers in half. Make sure the length fits the height of the mason jar – trim as needed. Then cut in half lengthwise. Cut the half in half again. Then cut the quarter in half again. Whew.
Peel your garlic clove before you cut it up. Cut off the ends and then smack the clove with the flat of your knife blade. The peel will then come off easily. Cut each clove up into about 8 pieces.
In a bowl mix the water, salt, vinegar, the ground pepper and the whole peppercorns. Try to dissolve as much of the salt and sugar as you can.
Put the cucumbers in the jars or bag and add the liquid. Add the garlic and any other flavor additions you want to try. I put in a green pepper sliced thin and 2 slim cayenne  peppers diced real small from the garden. I sliced up about 2 tbsp of sweet white onion and some sprigs of fresh dill.
Put the whole thing in the fridge for 2 days so the flavors can work their way into the cucumbers. If you're using a bag you should turn it over every couple hours or so. If you just can't wait 2 whole days, they start to taste pickly after leaving them overnight.
I'm going to do my best to wait until they are all done, but I can't say the same for the kids! I hope there are still some left in the fridge in 2 days!