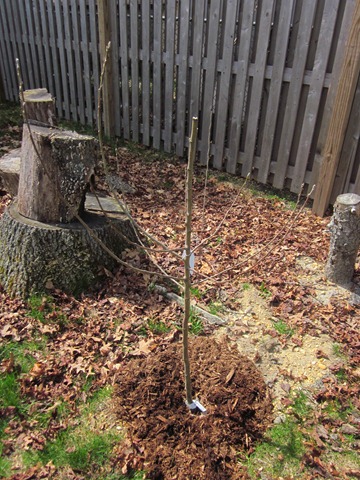 My parents graciously passed along 3 bags containing 3 cubic ft. each of cedar mulch they purchased last year and didn't need. (Didn't NEED? Hard to imagine.) Today the kids and I spread this free shredded wood around some of my new plants and trees. I'll need about 4 or 6 more bags to cover the rest of the foundation beds and the garlic I planted in the fall.
The soil around the garlic looks way too sandy to me and I'm afraid all the moisture they get just drains away. I'm choosing to buy more cedar because the bags my folks gave me were FREE and another kind of mulch would looks strange adjacent to the dark red of that wood. I'm also hoping to keep bugs away from the house. For the last few years we've had a great many ants welcoming themselves into our home right through the front door and I think their home is somewhere in my foundation gardens. I know that cedar doesn't KILL them by any means, but I certainly don't want to make things hospitable for them around here.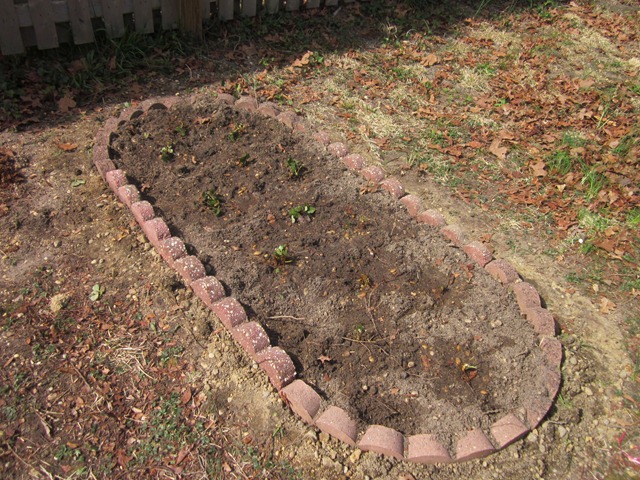 I had some border bricks I pulled up from the edge of our driveway during a landscaping project we did in the fall. Paired with some curved ones that used to be around one of the previous owner's trees (I never throw anything away!) I created an adorable new bed for my Ozark Strawberry plants I ordered from Miller Nurseries. The minimum order was 25 plants, but I didn't think I needed to plant so many. I chose 13 plants for the space I created and put them in the earth today. For the most part, I think scalloped border bricks are old fashioned and corny, but for a strawberry patch? I think they are charming and PERFECT! 🙂
I felt I needed to dig in a border here because the area surrounding the new patch was covered with ivy and other vines just a few years ago. I tore all that out and planted some Zoysia grass which has recently started to send out some successful runners and I don't want them overtaking the new strawberries. Hopefully the bricks will help me keep the Zoysia out of this area.