It's cold. Too cold – with a low of 36* tonight. So I've learned my lesson. I'll take a look and see the damage in the morning. If any of the tomatoes are still alive tomorrow, I'll put some hot caps on them. I doubt they will make it. Oh well, if I lose them, I'll buy some plants to replace them when it gets a little warmer.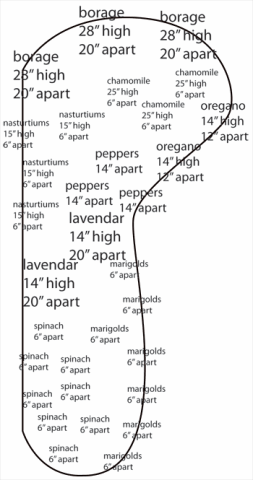 I've made a new garden plan for the front yard. The spacing in the plan isn't perfect, but I wanted to get an idea of heights and grouping. It's going to be kind of a border for the driveway that gets bean-shaped toward the back. I can't wait to start digging it up.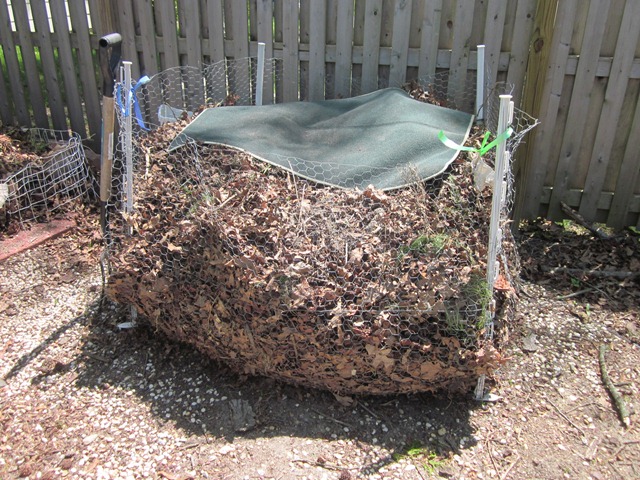 I also built a new compost enclosure a few days ago. I'm using the same chicken wire and stakes I used to make the ones that didn't really work well that I used over the winter. This new one is square (ish) and bigger. Probably 4'x4'. The chicken wire that's stretched across the front of this is only fastened at the bottom corners and then I tied 2 pieces of ribbon to the top corners to loop over the to of the stakes which will keep it closed. When I want to mix it up and turn the pile, I can just release the top loops and let the front chicken wire fall flat to the ground. I'll stand on it to turn the pile and then pick it up, loop it and contain it all again when I'm done.
I think hope it's going to work out well.