Huh?
Yes I did. Last night I went to the grocery store and saw a pile of horseradish roots there in the produce section. I couldn't resist. I think I'm developing a gardening addiction – I really do.
So rather than plant a tree, I researched how to grow horseradish online last night and felt pretty confident about putting it in the ground today.
I dug a hole about 14" deep and incorporated some compost (not well rotted, but it will be buried pretty deep so mother nature can handle the rest) in with the soil. I filled the soil back in slowly, positioning the root horizontally with the root tipped at a 45* angle. The top with the 3 crowns ended up 4" under the soil and the small tip was much deeper. I filled all the soil back in around it and watered the heck out of the thing. I also kept it out of the main veg garden beds because this stuff can spread like crazy and I wanted to give it some room.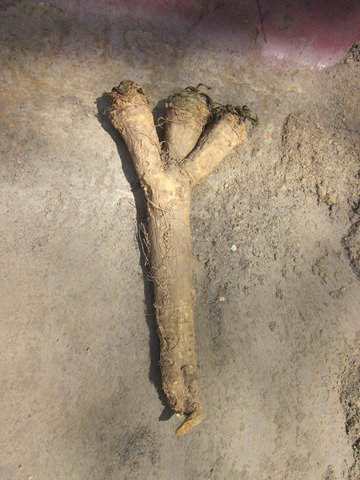 I finished digging a new garden bed (veg garden E) yesterday. You should just be able to see the stakes at the four corners of the bed in the picture here.  As soon as it's boxed out (hopefully we'll get the wood today) and I get some more garden soil to mix in, I'll plant my broccoli raab. This isn't in full sun for as much of the day as the rest of the beds, so I think that should make for good conditions for the raab.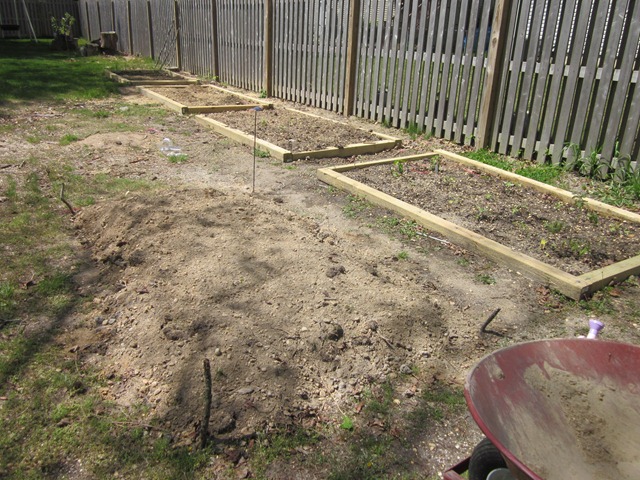 I've got some long branches I saved when I pruned some big trees over the winter. I'm going to use these to build a TP for my pole beans. I hope to get them done over the weekend.
As for the tomatoes and peppers… I took the hot caps off because it's supposed to be nice the next few days. I think I may be out of the woods with the cold weather here in NJ, but the damage may have already been done. I'll give them a few more days to perk back up before I make the final decision to replace them with new plants or just let them be.