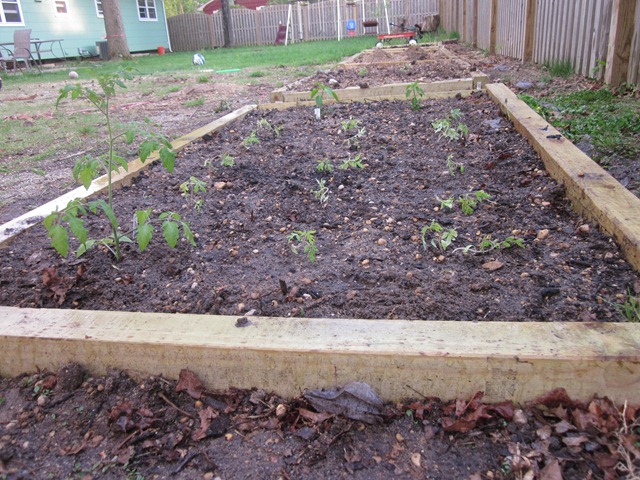 My Rutgers tomato seedlings looked leggy to me so rather than move them into larger pots (what I doubtlessly SHOULD have done) I put them in the garden yesterday. I buried them much deeper than they were in the peat pots because they were all laying down on top of each other in the tray.
Am I nuts? What's wrong with me? It's not even MAY yet – why didn't I wait? I planted 4 bell peppers, a chili and a jalapeño pepper too. Can they survive? I bought the hot peppers from Lowes a couple of weeks ago and I've been hardening off all the seedlings for the past week. Would the store sell the vegetable plants that weren't ready to be planted yet? I know it's not their responsibility to know when to put them in the ground, it's mine. *sigh*
I hope they make it. I'm mad at myself.
I need to start digging my front yard veg/herb bed. I'll plant more spinach, the borage, nasturtiums, lavender, chamomile and Echinacea and marigolds. 
I'm also considering moving my 3 year old lilac out of my foundation garden so I'm not roped into severe pruning when it gets bigger, but I have trouble deciding on placement of stand alone shrubs in the yard. I'm not sure where to put it.
I sprayed the fruit trees with some Scotts Ortho EcoSense Insecticidal Soap today.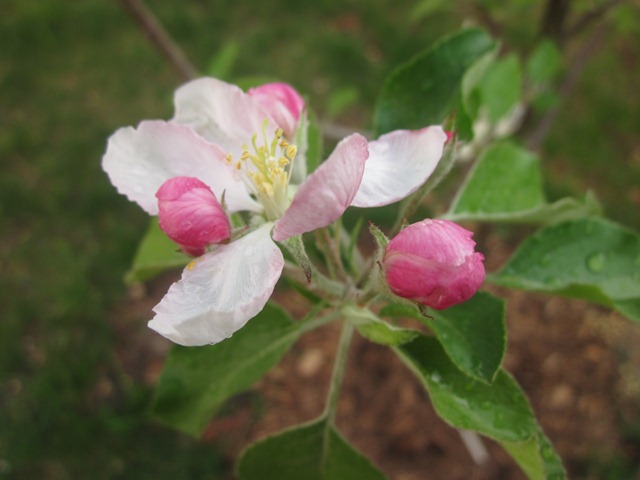 Here's a blossom from the Crimson Gala apple tree!