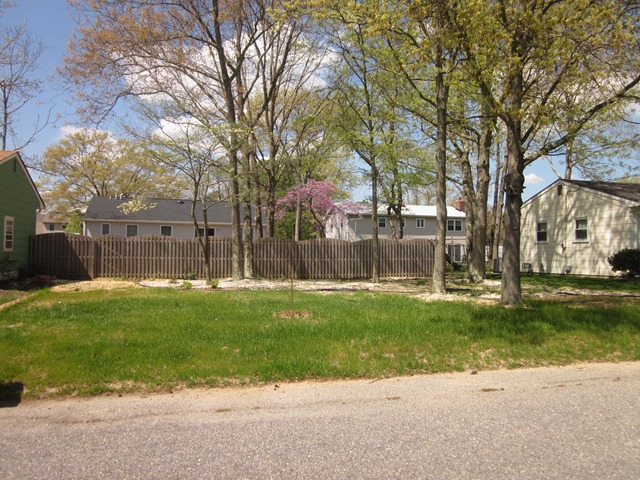 The Northern side of our lot is very shady thanks to a stand of tall oak trees in that area, and at this point, I've got nothing planted beneath them. I would love to use the space for some edible landscaping, but have been unsure about what to plant in the shade.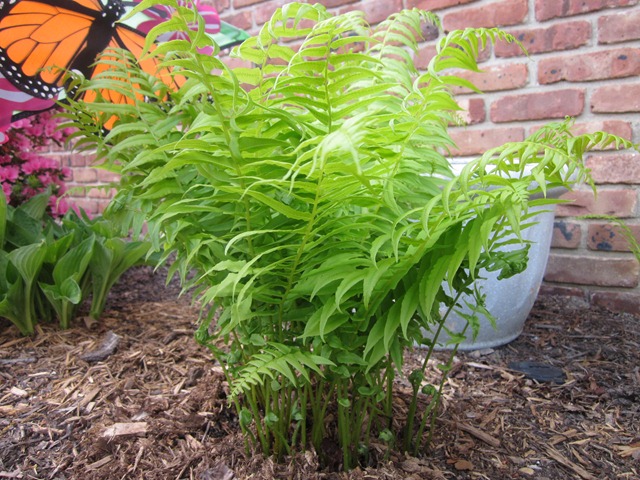 I've been reading that Ostrich ferns are shade loving and good to eat when the leaves are young, or in the "Fiddlehead" stage. I have some ferns that are supposedly "ostrich plume" I bought from Spring Hill 3 years ago. They haven't ever gotten more than about 2 ft tall, but perhaps as they mature over the years they will get bigger? I'm a little afraid to try and eat them because if I was sold another variety by mistake, I am not sure if the ones I have will be edible or not.
This fern (and a smaller one beside it) are part of my foundation garden in front of the house right now which used to be a rather shady spot. We took down some trees in front 2 years ago and now I think this area gets too much sun for them so I'm planning to move it to the shade… whether I can eat them or not. 🙂
I've decided I'll try planting some wintergreen, American Groundnut and evergreen huckleberry there, but not this season.
I think I'll start a sunny herb garden on the left side of the photo above which will be near the driveway, but away from the front door. (Husband and kids won't dig the bees by the door)
I started some lavender, Echinacea, chamomile and oregano seed last week (4/13) and I've just ordered some peppermint and borage seeds last night and I have some marigold seeds to add if there is room. I think I'll need to put the mint in a container. Do I need to worry about the other's spreading too far?